'Peace of sh!t': New York Post headlines Ahmadinejad's vile anti-Israel hate
Originally posted on Twitchy:
Mahmoud Ahmadinejad got a warm New York welcome from the New York Post this morning after he declared Israel will be eliminated.
Too bad this administration doesn't view Ahmadinejad the same way :/ "@toddstarnes: Today's NY Post! Wow! http://t.co/q9hbZVLO"—
Suzy Homemaker (@SuzyHomemaker77) September 25, 2012
A'jad, this exclamation point's for you: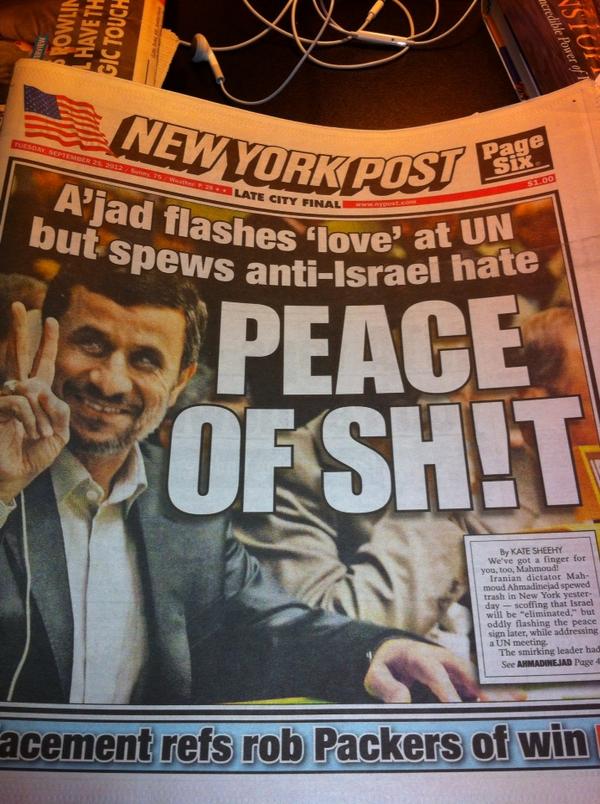 The paper also welcomed the Iranian president with a thoughtful gift basket.
Win! NY Post creates a gift-basket for Ahmadinejad w/ Jewish delicacies, a ticket to "Old Jews Telling Jokes" & a card signed by New Yorkers—
Taylor Mann (@tailormann) September 25, 2012
Awesome! NY Post prepares gift basket for Ahmadinejad – Includes Manischewitz gefilte fish and Zabar's cream cheese. israelhayom.com/site/newslette…—
  (@jeffmic) September 25, 2012
Some Twitterers clutched their pearls at the Post's thinly-disguised front page profanity.
I say this as a Jew. Why does the NY Post use profanity on it's front…
View original 76 more words