Can Brazil's New President Copy the Chilean Miracle?
International Liberty
Brazil appears to be a tragic example of what happens when societal capital erodes (or never gets established in the first place) and too many people in the country see government as a vehicle for redistribution.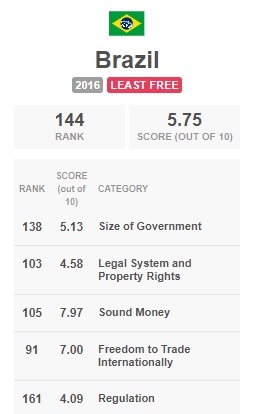 That environment leads to statist policies.
Which presumably helps to explain why Brazil is ranked #144 in Economic Freedom of the World. That's not as low as some of its neighbors, such as last-place Venezuela (#162) or close-to-last Argentina (#160), but it's still miserable. The country definitely deserves to be in the "Least Free" group.
Today's question is whether Brazil also belongs in the "give up hope" group. In other words, has the country passed a "tipping point" of big government?
I've previously speculated whether the United States eventually may reach that point, and I definitely think it's a relevant issue for states like Illinois and nations such as Greece.
View original post 630 more words